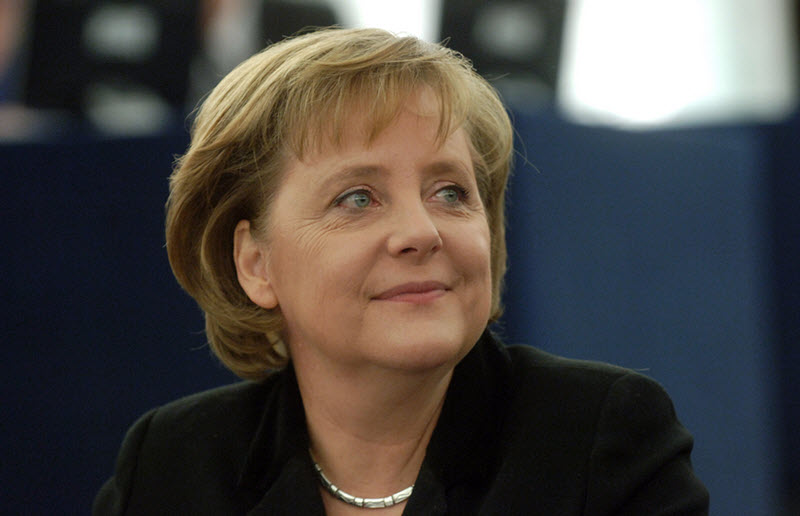 Angela Merkel has been the Chancellor of Germany since 22 November 2005, and the leader of the Christian Democratic Union (CDU) party since 10 April 2000. In March 2014, she became the longest-serving incumbent head of government in the European Union. She is currently also the senior G7 leader. On 20 November 2016, Merkel announced that she would seek re-election to a fourth term as Chancellor of Germany.
After the German reunification in 1990, Angela Merkel was elected to the Bundestag and has been reelected ever since. She holds a doctorate in physical chemistry and was a research scientist prior to her full-time political career.
In 2007, Merkel was President of the European Council and chaired the G8. She played a central role in the negotiation of the Treaty of Lisbon and the Berlin Declaration. During the financial crisis of 2007/2008, Merkel emerged as the de facto leader of the European Union and she was referred to as "the decider".
In December 2015, Time Magazine named her Person of the Year and called her The Chancellor of the Free World. Merkel has also been named the world's second most powerful person by Forbes, first in 2012 (below Barack Obama) and then again in 2015 (below Vladimir Putin).
She is the first female Chancellor of Germany.
She is the first Chancellor of Germany that grew up in East Germany.
She is the first Chancellor of Germany with a background in natural sciences.
When she became Chancellor of Germany at the age of 51, she was the youngest German chancellor since WWII.
Short facts
Personal details
Name
Angela Dorothea Merkel (née Kasner)
Born
17 July 1954
Alma mater
Leipzig University
Political party
Democratic Awakening (1989 – 1990)

Christian Democratic Union (1990 – present)

Religious affiliation
Evangelische Kirche in Deutschland

(Evangelical Church in Germany)

Spouse
Ulrich Merkel (1977 – 1982)

Joachim Sauer (1998 – present)
Current positions
Chancellor of Germany
Assumed office 22 November 2005
Preceded by
Gerhard Schröder
Leader of the Christian Democratic Union (Germany)
Assumed office 10 April 2000
Preceded by
Wolfgang Schäuble
Member of the Bundestag
Assumed office 18 January 1991
Preceded by
Constituency created
Previous positions
General Secretary of the Christian Democratic Union
In office 7 November 1998 – 10 April 2000
Preceded by
Peter Hintze
Succeeded by
Ruprecht Polenz
Minister for the Environment
In office 17 November 1994 – 26 October 1998
Chancellor
Helmut Kohl
Preceded by
Klaus Töpfer
Succeeded by
Jürgen Trittin
Minister for Women and Youth
In office 18 January 1991 – 17 November 1994
Chancellor
Helmut Kohl
Preceded by
Ursula Lehr
Succeeded by
Claudia Nolte
Early life
Angela Dorothe Kasner was born in Hamburg, West Germany, in 1954. She was the daughter of Horst and Herlind Kasner. Eventually, two more children were born to the family: a son named Marcus Kasner and a daughter named Irene Kasner.
Horst Kasner (b. 1926) was a Lutheran pastor from Berlin and Herlind Kasner (b. 1928) was a language teacher from Danzig (now Gdánsk). She taught both English and Latin.
The same year as Angela Kasner was born, her father received a pastorate at the church in Quitzow, Perleberg. The family therefore relocated to Templin and Angela grew up in East Germany. The family lived in the countryside roughly 50 miles north of East Berlin.
During her childhood and youth, Angela's friends called her Kasi, a nickname derived from her surname.
Religion was important in Angela's family and she was confirmed instead of taking part in the coming of age ceremony Jugendweihe, a secular ceremony encouraged by the ruling Socialist Unity Party.
Angela Kasner went to school in Templin where she excelled in Russian and Mathematics. She won prizes in both subjects and could speak Russian fluently. She then went on to study physics at the University of Leipzig 1973 – 1978. In 1977, she married fellow student Ulrich Merkel and took his surname.
Career
From 1978, Angela Merkel worked at the Central Institutue of Physical chemistry of the Academy of Sciences in Berlin-Adlershof. After successfully defending her thesis on quantum chemistry she received her doctorate (Dr. rer. Nat.). She continued her research and published several papers.
The dissolution of the Soviet Empire and the fall of the Berlin Wall brought on huge changes in East Germany, and Angela Merkel joined the newly formed party Democratic Awakening. After the first ever multi-party election in East Germany, she was appointed deputy spokesperson for the pre-unification caretaker government.
Democratic Awakening merged with the East German Christian Democratic Union (CDU) in 1990, and as East and West Germany were unified the East German CDU merged with its West German counterpart.
Bundestag
Angela Merkel was elected to Bundestag for the constituency of Stralsund – Nordvorpommern – Rügen at the 1990 federal election. Since then, she has won re-election for this constituency at every following federal election.
After first being elected to Bundestag, Angela Merkel was quickly appointed to the Cabinet where she served as Minister for Women and Youth. In 1994, her political visibility increased as she became Minister for the Environment and Nuclear Safety.
Leader of the CDU
As a result of the 1998 general election, the Christian Democratic Union (CDU) lost its presence in the federal government and Angela Merkel was appointed Secretary-General of the CDU. The following year, CDU won six out of seven state elections and broke the long-standing SPD-Green hold on the Bundesrat.
After a donation scandal that compromised several leading figures of the CDU, Angela Merkel replaced Wolfgang Schäuble as party leader on 10 April 2000. For the first time in history, a German party had a female leader. In 2002, Merkel also became the Leader of the Opposition in the Bundestag, replacing Friedrich Merz.
Chancellor of Germany
Angela Merkel assumed the office of Chancellor of Germany on 22 November 2005, after a stalemate election which resulted in a grand coalition between CDU and the Social Democratic Party of Germany (SPD).
In the general election of 2009, CDU increased their number of seats and formed a governing coalition with the Free Democratic Party (FDP).
After the general election of 2013, CDU/CSU parties formed a grand coalition with the SPD.
Personal life
Marriage
Physics students Angela Kasner and Ulrich Merkel were married in 1977, when Angela was 23 years old. The couple divorced in 1982, but Angela did not change her surname back to Kasner. Angela and Ulrich had no children.
In 1998, Angela Merkel married her long-term partner professor Joachim Sauer. Just like Angela, he is a quantum chemist with a doctoral degree. The two first met in 1981.
Children
Angela Merkel's husband Joachim Sauer has two sons from a previous marriage.
Religion
Angela Merkel is a Lutheran member of the Evangelical Church in Berlin, Brandenburg and Silesian Upper Lusatia (Evangelische Kirche Berlin-Brandenburg-schlesische Oberlausitz – EKBO). EKBO is a United Protestant church body under the umbrella of the Evangelical Church in Germany. As a United Protestant church, it is both Reformed and Lutheran.
EKBO was formed in 2004 when the Evangelical Church in Berlin-Brandenburg and the Evangelical Church in Silesian Upper Lusatia merged. Prior to this, Angela Merkel was a member of the Evangelical Church in Berlin-Brandenburg.
Other info
Angela Merkel is a devoted football fan and sometimes attends games of the national German team.
In 1995, Angela Merkel was attacked by a dog. Since then, she has been afraid of dogs.