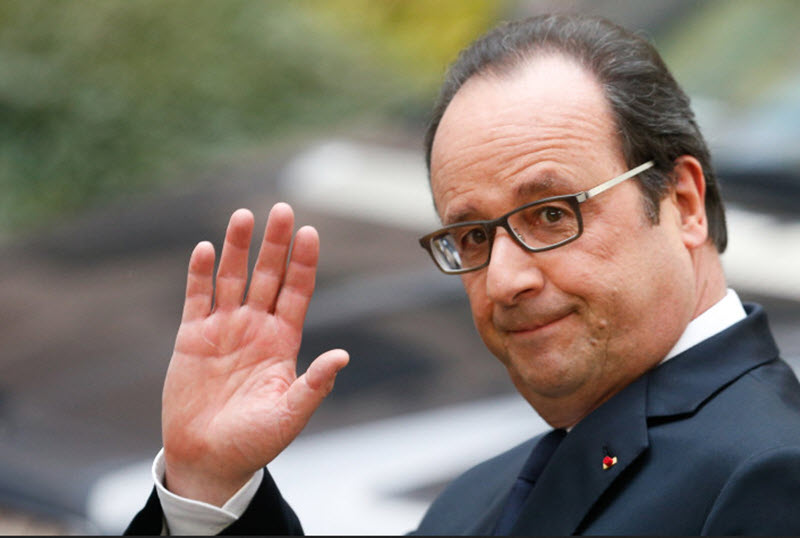 François Hollande became the President of France on 15 May 2012. Simultaneously, he became co-prince of Andorra.
François Hollande has been a member of the Socialist Party since the 1970s and was its First Secretary from 1997 to 2008. His political career took off when he became a special adviser to the newly elected President François Mitterrand in the early 1980s.
In the 2007 presidential elections, Hollandes then domestic partner and fellow Socialist Party member Ségolène Royal ran against Nicolas Sarkozy and lost. In the following presidential election, Hollande defeated Sarkozy who was seeking to be re-elected for another term.
During Hollandes time as President of France, French combat troops were withdrawn from Afghanistan and same-sex marriage was legalized. On December 1, 2016, Hollande announced he would not seek re-election in the upcoming 2017 French presidential election.
Short facts
Personal details
Name
François Gérard Georges Nicolas Hollande
Born
12 August 1954
Alma mater
Panthéon-Assas University
HEC Paris
Paris Institute of Political Studies
École nationale d'administration
Political party
Socialist Party
Religious affiliation
Atheist
Spouse
Ségolène Royal (1978–2007)
Valérie Trierweiler (2007–2014)
Current positions
President of France
Assumed office 15 May 2012
Preceded by
Nicolas Sarkozy
Co-Prince of Andorra
Assumed office 15 May 2012
Serving with Joan Enric Vives Sicilia
Preceded by
Nicolas Sarkozy
Previous positions
President of the Corrèze General Council
In office 20 March 2008 – 15 May 2012
Preceded by
Jean-Pierre Dupont
Succeeded by
Gérard Bonnet
First Secretary of the Socialist Party
In office 27 November 1997 – 27 November 2008
Preceded by
Lionel Jospin
Succeeded by
Martine Aubry
Mayor of Tulle
In office 17 March 2001 – 17 March 2008
Preceded by
Raymond-Max Aubert
Succeeded by
Bernard Combes
Member of the National Assembly for Corrèze's 1st Constituency
In office 12 June 1997 – 15 May 2012
Preceded by
Raymond-Max Aubert
Succeeded by
Sophie Dessus
In office 12 June 1988 – 17 May 1993
Preceded by
Proportional representation
Succeeded by
Raymond-Max Aubert
Member of the European Parliament for France
In office 20 July 1999 – 17 December 1999
Preceded by
Proportional representation
Succeeded by
Anne Ferreira
Early life
François Gérard Georges Nicolas Hollande was born in Rouen in Normandy on 12 August 1954.
His mother, Nicole Frédérique Marguerite Tribert (b. 1927), was a social worker, and his father, Georges Gustave Hollande (b. 1923), was a physician. In 1959, Georges Gustav Hollande ran for local election on a far right ticket.
In Rouen, François Hollande attended Saint-Jean-Baptiste-de-la-Salle, a private Catholic boarding school. When François Hollande was thirteen years old, he moved with his family to Neuilly-sur-Seine, a wealthy Parisian suburb. After receiving his baccalaureate from Lycée Pasteur de Neuilly-sur-Seine in 1972, Hollande read law at Université Panthéon-Assas, commonly referred to as Sorbonne Law School. He graduated from Panthéon-Assas with a bachelor's degree in Law and continued his studies at HEC Paris, one of the most prestigious French business schools. During the summer of 1974, he took university courses in the United States.
Hollande was one of the volunteers working for Socialist Party leader François Mitterrand's campaign in the 1974 presidential election, an election won by liberal-conservative centre-right Valéry Giscard d'Estaing by a margin of 1.6%.
After graduating from HEC Paris in 1975, Hollande attended Institut d'études politiques de Paris and École nationale d'administration (ENA), graduating in 1980.
Career
After graduating from ENA, Hollande entered the prestigious Course des comptes (Court of Auditors). This is a quasi-judicial body of the French government, responsible for auditing public institutions. It is one of the famous French grands corps de l'État and chiefly recruits top students from ENA.
In the late 1970s, Hollande joined the Socialist Party and by 1981 he ran in the legislative election in Corréze, losing to Jacques Chirac in the first round. That was also the year when François Mitterrand became president and picked Hollande as his special adviser In 1988, Hollande ran for a second time in Corréze and was elected to the National Assembly.
In 1997, Lionel Jospin became Prime Minister of France and Hollande was elected to replace him as First Secretary of the Socialist Party. Hollande kept this position for eleven years; from 2001 and onwards in combination with his duties as Mayer of Tulle in Corrèze.
Hollande was re-elected as first secretary in 2005, and his domestic partner Ségolène Royal was chosen to represent the party in the 2007 presidential election. After her loss to Nicolas Sarkozy, Hollande was widely blamed for the poor performance of the Socialist Party and he announced that he would not seek another term as First Secretary. The following year, Hollande was elected president of the General Council of Corrèze, and he won re-election in 2011.
President of France
In the first round of the 2012 presidential election, François Hollande came in first place with 28.63% of the vote, and faced Nicolas Sarkozy in a run-off. In the second round of voting on 6 May 2012, Hollande was elected with 51.7% of the vote.
François Hollande was inaugurated on 15 May 2012. Hollande's Council of Ministers was the first ever in France to include as many women as men; 17 of each gender. The first measure enacted by the new government under Hollande was to lower the salaries of the President, the Prime Minister and other members of government by 30%.
Personal life
Domestic partner
François Hollande lived with fellow socialist politician Ségolène Royal from 1978 to 2007, and they had four children together. The couple separated shortly after Royal's defeat in the French presidential election.
François Hollande was in a relationship with French journalist Valérie Trierweiler 2007 – 2014. When Hollande assumed office as President of France in 2012, Trierweiler moved into Palais de l'Élysée with him and started accompany him on official travel. In early 2014, Hollande announced their separation after a tabloid revealed his affair with actress Julie Gayet. Gayet is a centre-left activist who appeared in a video supporting François Hollande during the 2012 French presidential election.
Children
François Hollande has four children with Ségolène Royal: Thomas (b. 1984), Clémence (b. 1985), Julien (b. 1987) and Flora (b. 1992).
Religion
François Hollande was raised Catholic, but is now an atheist.