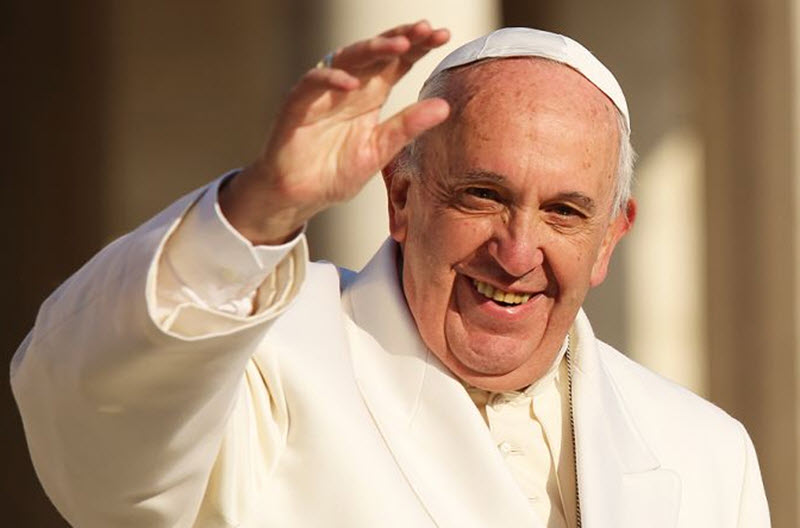 Pope Francis (Latin: Franciscus; Italian: Francesco; Spanish: Francisco) is the 266th Pope of the Roman Catholic Church. He is the Bishop of Rome and the sovereign of the Vatican City.
Born in Argentina as Jorge Bergoglio, he chose the pontifical name Francis after Saint Francis of Assisi. This is the first time since Pope Lando's reign in 913–914 that a serving pope holds a name not used by a previous pope.
Pope Francis is the first Jesuit pope, the first pope from the Americas, and the first pope from the Southern Hemisphere. He is also the first non-European pope since Gregory III from Syria who died in 741, although Pope Francis ancestors are Italian.
Pope Francis native tongue is Spanish. He also speaks Italian, German, French, Portuguese and English, and he understands the Piedmontese language and some Genoese since his father was an emigrant from Piedmontese and his mother's family hailed from the Piedmont-Genoa region.
Throughout his public life, Jorge Bergoglio – and later Pope Francis – has be noted for his humility and simple habits. One of his major initiatives as Bishop of Buenes Aires was to double the number of priests assigned to work in the slums of the city. This is when he earned the nickname "The Slum Bishop". Bergoglio also decided to sell off the archdiocese's shares in multiple banks, and he made it his custom to celebrate Holy Thursday by washing other people's feet in slums, prisons, hospitals, retirement homes, etc. As a cardinal, he elected to live in a small apartment instead of the elegant bishop's residence in Olivos, Argentina. He used public transportation for his commute and he cooked his own meals.
After being elected pope, Pope Francis refused to sit on the Papal throne while receiving congratulations from the cardinals. During his first appearance on the balcony of Saint Peters Basilica, he work a simple white cassock without the extravagant red ermine-trimmed mozzetta traditionally worn by popes. Pope Francis also turned down the traditional golden pectoral cross and chose to wear his old iron pectoral cross instead, and he picked silver instead of gold for his piscatory ring. Pope Francis is currently staying in the Domus Sanctae Marthae guesthouse instead of living in the papal apartments of the Apostolic Palace.
Another hallmark of Jorge Bergoglio's religious life has been a focus on interfaith dialogue and emphasis on ecumenism. Shortly after his election, Pope Francis also stated that it was crucial to intensify outreach to nonbelievers.
Short facts
Personal details
Birth name
Jorge Mario Bergoglio
Papal name
Francis
Born
17 December 1936
Alma mater
Inmaculada Concepción Seminary, Buenos Aires
Colegio Máximo de San José, San Miguel, Buenos Aires Province
Facultades de Filosofía y Teología de San Miguel, Buenos Aires Province
Religious affiliation
Roman Catholic

Jesuit
Current positions
Pope of the Roman Catholic Church

Bishop of Rome

Sovereign of Vatican City

Papacy began on 13 March 2013
Preceded by
Pope Benedict XVI
Ordinations
Created Cardinal
21 February 2001
by Pope John Paul II
Consecration
27 June 1992
by Antonio Quarracino
Ordination
13 December 1969
by Ramón José Castellano
Previous positions
| | |
| --- | --- |
| Cardinal-Priest of San Roberto Bellarmino | 2001-2013 |
| Archbishop of Buenos Aires | 1998-2013 |
| Ordinary of the Ordinariate for the Faithful of the Eastern Rites in Argentina | 1998-2013 |
| President of the Argentine Episcopal Conference | 2005-2011 |
| Titular Bishop of Auca | 1992-1997 |
| Auxiliary Bishop of Buenos Aires | 1992-1997 |
| Provincial superior of the Society of Jesus in Argentina | 1973-1979 |
Early life
Jorge Mario Bergoglio was born on 17 December 1936, in Buenos Aires, Argentina. The middle-class neighborhood where he lived with his family is called Flores.
His parents were the accountant Mario José Bergoglio (1908–1959) and the housewife Regina María Sívori (1911–1981). Mario José was born in the Piedmont region of Italy and emigrated to Argentina with his family in 1921 to escape the fascist rule of Benito Mussolini. Regina María was born in Buenos Aires, but her ancestors came from the Piedmont-Genoa region too.
Jorge Mario Bergoglio had four younger siblings: Alberto Horacio, Oscar Adrián, Marta Regina and Maria Elen Bergoglio.
The young Jorge Mario attended Wilfrid Barón de los Santos Ángeles school in the neighborhood Ramos Mejia in Buenos Aires. This school is run by the Salesian Society, a Roman Catholic religious institute. He then proceeded to the technical school Escuela Técnica Industrial N° 27 Hipólito Yrigoyen and graduated with a chemical technician's diploma.
As a chemical technician, Jorge Bergoglio found work in the food section of the Hickethier-Bachmann Laboratory. He also worked as a bar bouncer and as a floor sweeper.
At the age of 21, Bergoglio suffered from life-threatening pneumonia and three cysts, and part of his lung had to be surgically removed.
One day, when Bergoglio was on his way to celebrate Spring Day, he passed by a church to confess. In the church, a priest inspired him to chose the priesthood. To achieve this goal, Bergoglio attended the Inmaculada Concepción Seminary in Buenos Aires. After three years at the seminary, he joined the Society of Jesus (the Jesuits) as a novice on 11 March 1958.
During his time as a Jesuit novice, Bergoglio studied humanities in Santiago, Chile. At the conclusion of his novitiate, he became a Jesuit on 12 March 1960. This is when he made his perpetual vows of poverty, chastity and obedience. 1960 was also the year when Bergoglio obtained his licentiate in philosophy from the Colegio Máximo de San José in San Miguel, Buenos Aires Province.
Career
The Jesuits
After becoming a Jesuit, Bergoglio taught literature and psychology at catholic schools in Santa Fe and Buenos Aires. He finished his theological studies in 1967 and became an ordained priest on 13 December 1969.
While attending Facultades de Filosofía y Teología de San Miguel in Argentina, Bergoglio served as the master of novices and became a professor of theology. The next step for Bergoglio was now to complete his tertianship; the final formal period of formation in the Society of Jesus. To this end, he moved to Alcalá de Henares in Spain. He took the final fourth vow (obedience to the pope) on 22 April 1973. That same year, he was appointed provincial superior of the Society of Jesus in Argentina, a position that he would keep until 1979 when he was appointed rector of Facultades de Filosofía y Teología de San Miguel.
Due to his orthodoxy and opposition to the then prevailing theology of liberation, Bergoglio was removed as rector and spent several months in Germany. He returned to Argentina where he served as confessor and spiritual director to the Jesuit community in Córdoba. Tensions continued to grow between him and high ranking Jesuit officials, and in 1992 he was asked to not reside in Jesuit houses anymore. Because of this, Bergoglio was virtually estranged from the Jesuits until he was elected Pope over 20 years later.
Bishop
Jorge Bergoglio was appointed Auxiliary Bishop of Buenos Aires in 1992 and ordained on 27 June 1992 as Titular Bishop of Auca. He selected Miserando atque eligendo as his episcopal motto.
In 1998, Bergoglio became Metropolitan Archbishop of Buenos Aires.
Cardinal
Jorge Bergoglio was created a cardinal by Pope John Paul II on 21 February 2001, with the title cardinal-priest of San Roberto Bellarmino. It should be noted that this is a church served by Jesuits.
After the death of Pope John Paul II, Bergoglio was considered one of the papabile for succession to the papacy, and he participated in the 2005 papal conclave that ultimately elected Cardinal Joseph Ratzinger.
Pope
After the resignation of Pope Benedict XVI on 28 February 2013, the papal conclave convened to elect his replacement. The conclave commenced on 12 March, and Jorge Bergoglio was elected on the second day of the conclave. White smoke could be seen emanating from the Sistine Chapel at 19:06 local time, following the fifth ballot.
Personal life
Marriage
Not married.
Children
No children.
Religion
Roman Catholic
Other info
Jorge Bergoglio is a lifelong supporter of the San Lorenzo de Almagro football club, which is based in the Boedo neighborhood of Buenos Aires.
Jorge Bergoglio has professed an intense fondness for milonga, a musical genre that originated in the Río de la Plata areas of Argentina and Uruguay and was very popular in the 1870s.