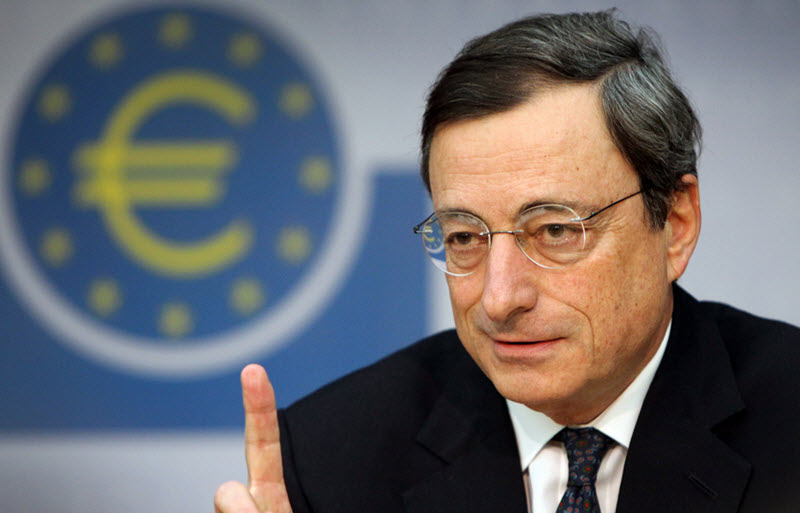 Mario Draghi is the appointed President of the European Central Bank (ECB) for the period 1 November 2011 – 31 October 2019. Since the ECB was established on 1 June 1998, it has had three presidents. Draghi's predecessors are Wim Duisenberg from the Netherlands who held the position 1998 – 2003, and Jean-Claude Trichet from France who headed the bank 2003 – 2011.
In 2014, Mario Draghi was listed as #8 on Forbes Magazine's List of The World's Most Powerful People. The following year, Fortune magazine named him as the world's second greatest leader, outranked only by Apple CEO Tim Cook.
Short facts
Personal details
Name
Mario Draghi
Born
3 September 1947
Alma mater
Sapienza University of Rome
Massachusetts Institute of Technology
Religious affiliation
Roman Catholic
Spouse
Maria Serenella Cappello
Current position
President of the European Central Bank
Assumed office 1 November 2011
Preceded by
Jean-Claude Trichet
Previous positions
Governor of the Bank of Italy
In office 2005 – 2011
Preceded by
Antonio Fazio
Succeeded by
Ignazio Visco
Chairman of the Financial Stability Board
In office 2009 – 2011
Preceded by
New office
Succeeded by
Mark Carney
Early life
Mario Draghi was born in Rome, Italy on 3 September 1947, to Gilda Mancini and Carlo Draghi. Gilda Mancini was a pharmacist. Carlo Draghi had started working for Banca d'Italia in 1922, and would later work for Istituto per la Ricostruzione Industriale (IRI) and Banca Nazionale del Lavoro.
Mario Draghi has two younger siblings: a sister named Andreina who is an art historian, and a brother named Marcello who is an entrepreneur.
Mario Draghi went to the Istituto Massimiliano Massimo, a prestigious and exclusive Jesuit school in Rome, with roots dating back to 1551. The institute has one of the most prestigious alumni registries in Italy.
When in his mid-teens, Draghi lost his father, and his mother also died shortly afterwards.
After Istituto Massimiliano Massimo, Draghi studied at Sapienza – Università di Roma, where he graduated with a thesis titled "Economic integration and exchange rates changes". He wrote the thesis under the supervision of Frederico Caffé, who encouraged the young Draghi to pursue further studies abroad. After seeking the council of Nobel Prize laureate Franco Modigliani, Draghi went to the Massachusetts Insitute of Technology (MIT) in the United States. When he earned his PhD in economics there in 1976, he became the first Italian ever with a PhD in economics from MIT.
Career
After his PhD studies in the U.S., Draghi returned to his native Italy where he taught at several universities before becoming a full professor at the Cesare Alfieri Faculty of Political Science of the the University of Florence in 1981. During his time in Florence, he was also the Italian Executive Director at the World Bank. In 1991, Draghi was appointed director of the Italian Treasury, and office he would keep until 2001.
During his long and illustrious career, Draghi has been a board member or general council member of several Italian banks and corporations, including Eni, Istituto per la Ricostruzione Industriale, Banca Nazionale del Lavoro, and IMI. He has held similar positions in the European Central Bank, the Bank for International Settlements, the International Bank for Reconstruction and Development, and the Asian Development Bank.
Draghi has also been a fellow of the Institute of Politics at the John F. Kennedy School of Government, Harvard University (2001), and is a trustee at the Institute for Advanced Study in Princeton, New Jersey and also at the Brookings Institution, in Washington, D.C.
In 2002 – 2005, Draghi was Vice Chairman and Managing Director of Goldman Sachs International and a member of the firm-wide management committee. In December 2005, he was appointed Governor of Banca d'Italia, and a position as Chairman of the Financial Stability Forum soon followed. As this forum developed into the Financial Stability Board, Draghi essentially worked on behalf of the G20.
Draghi stayed with Banca d'Italia until 2011, when he was appointed President of the European Central Bank for the period 1 November 2011 – 31 October 2019.
Personal life
Marriage
Mario Draghi's wife Maria Serenella Cappello is known as Serena.
Children
Together with his wife Serena, Mario Draghi has two children. A daughter name Frederica who is a biologist, and a son named Giacomo who is a trader with Morgan Stanley. Frederica has one daughter.
Religion
Roman Catholic
Hobbies
Mario Draghi plays tennis and golf.
Other info
Mario Draghi is a fan of the AS Roma football team.