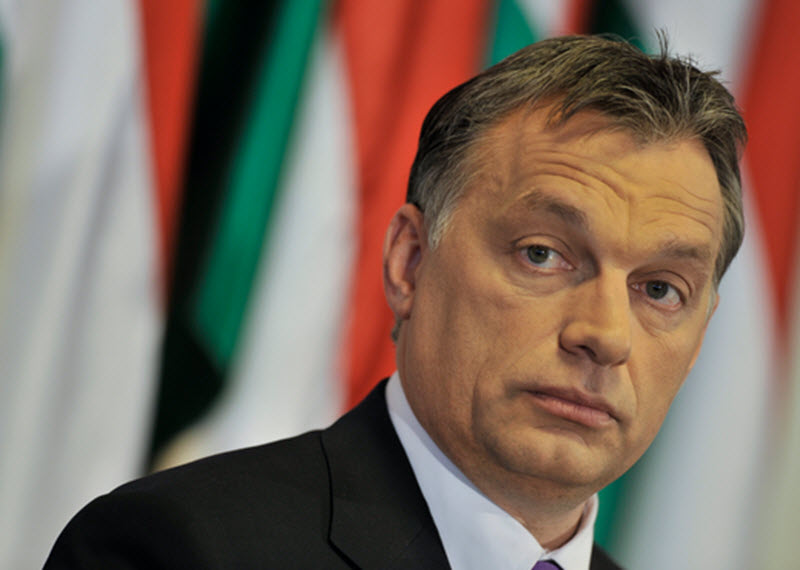 Viktor Mihály Orbán has been the Prime Minister of Hungary twice; first from 1998 to 2002, and then again from 2010 and onwards. Since 2003, Viktor Orbán is the leader of the Fidesz party, which is a national conservative party. Orbán also held this position from 1993 to 2000.
In Hungarian, his name is written Orbán Viktor, in accordance with the eastern name order. This article will use the western name order, i.e. given name first, family name after.
Orbán's time as Prime Minister has been characterized by increased social conservatism and Eurosceptic nationalism in Hungary, and constitutional reforms has been carried. Orbán is an advocate of what he calls "illiberal democracy".
"And so in this sense the new state that we are constructing in Hungary is an illiberal state, a non-liberal state. It does not reject the fundamental principles of liberalism such as freedom, and I could list a few more, but it does not make this ideology the central element of state organization, but instead includes a different, special, national approach."
– Excerpt from Prime Minister Viktor Orbán's Speech at the Bálványos Summer Free University and Student Camp in 2014
Viktor Orbán is currently considered one of the most influential leaders in the European Union and is one of the most well-known proponents of Europe's mainstream right.
Short facts
Personal details
Name
Viktor Mihály Orbán
Born
31 May 1963
Alma mater
Eötvös Loránd University
Pembroke College, Oxford
Political party
Fidesz
Religious affiliation
Calvinist Hungarian Reformed Church
Spouse
Anikó Lévai (since 1986)
Current positions
Prime Minister of Hungary
Assumed office 29 May 2010
Preceded by
Gordon Bajnai
Member of the National Assembly
Assumed office 2 May 1990
Previous positions
Prime Minister of Hungary
In office 6 July 1998 – 27 May 2002
Preceded by
Gyula Horn
Succeeded by
Péter Medgyessy
Early life
Viktor Mihály Orbán was born on 31 May 1963 in the Székesfehérvár region of central Hungary. His father Győző Orbán was an agronomist and entrepreneur, and his mother Erzsébet Sípos was a special educator and speech therapist. The family was middle-class. Eventually, Viktor got two younger brothers; Győző, Jr. (b. 1965) and Áron (b. 1977).
Viktor grew up in the two villages Alcsútdoboz and Felcsút, both located in Fejér County not far from the city of Székesfehérvár. He attended elementary school there and in a third village called Vértesacsa. In 1977, the family left the countryside and moved into the city (Székesfehérvár).
Viktor Orbán read English at Blanka Teleki High School in Székesfehérvár until 1981, followed by two years of military service. He then went on to read law at Eötvös Loránd University in Budapest, where he graduated in 1987 after successfully defending his master's thesis on the Polish Solidarity movement.
After becoming a jurist, Viktor Orbán spent two years working as a sociologist at the Management Training Institute of the Ministry of Agriculture and Food in Budapest. He was then awarded a scholarship from the Soros Foundation to study political science at Pembroke College, Oxford, UK. At Oxford, Orbán had Hegelian political philosopher Zbigniew Pelczynski as his personal tutor.
Career
In January 1990, Orbán left Oxford and returned to Hungary where he ran for a seat in Hungary's first post-communist parliament. The Soviet Empire was collapsing, and Orbán was at the head of a reformist student movement named Fiatal Demokraták Szövetsége (Alliance of Young Democrats).
Orbán attracted both nation-wide and international attention with an address given at the reburial of martyrs from the Hungarian revolution of 1956. In his address, Orbán openly called for Soviet troops to permanently leave Hungary.
As Hungary transitioned into democracy, Orbán was elected to the National Assembly. Fiatal Demokraták Szövetsége developed into the political party Fidesz, with Orbán functioning as the leader of its parliamentary caucus until 1994, successfully shifting Fidesz from its original classical liberal platform to a more center-right platform anchored in national conservatism.
In the 1998 election, Fidesz attained a parliamentary plurality and a right-wing coalition government was formed, headed by Orbán who served as Prime Minister of Hungary from 6 July 1998 to 27 May 2002.
The Socialist Party narrowly won both the 2002 and 2006 parliamentary elections, but Orbán remained active in politics – now as the leader of the opposition. In the election of 2010, the right wing parties won a landslide victory and Fidesz formed a super-majority coalition with the Christian Democrats (KDNP). The super-majority position made it possible for the coalition to carry out major constitutional and legislative changes. On 1 January 2012, a new Constitution of Hungary went into force.
The 2014 Hungarian parliamentary election resulted in a new victory for the Fidesz-KDNP alliance, which preserved its two-thirds majority and kept Viktor Orbán as Prime Minister of Hungary. Since then, by-elections have reduced the two-thirds majority to a simple majority.
The 2014 election was the first parliamentary election under the new Constitution of Hungary and under the new electoral law. Voters elected 199 members of parliament instead of 386, and the election only had one single round.
Personal life
Marriage
Viktor Orbán and the jurist Anikó Lévai married in 1986.
Children
Viktor Orbán has five children with his wife Anikó. One of their children is retired professional footballer Gáspár Orbán, who played for Ferenc Puskás Football Academy.
Viktor and Anikós first grandchild Aliz was born in June 2016, to their oldest daughter Ráhel and entrepreneur István Tiborcz.
Religion
Viktor Orbán is a member of the Calvinist Hungarian Reformed Church. His wife Anikó is a Roman Catholic.
Other info
Viktor Orbán is an avid football enthusiast. As a young man, he was a professional football player with Felcsút FC. He appears in the game Football Manager 2006.