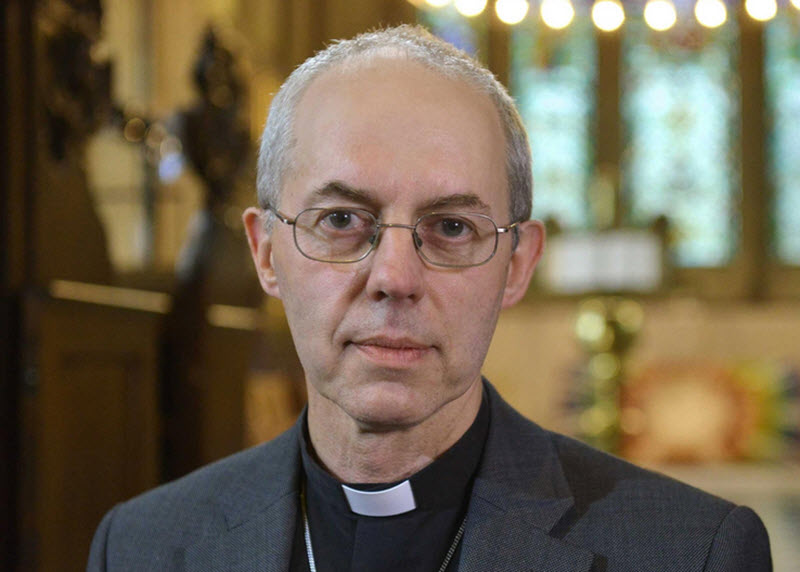 Justin Welby is the 105th Archbishop of Canterbury. As the Archbishop of Canterbury, he is the most senior bishop in the Church of England, which is the Anglican Christian state church of England. He is the highest ranking non-royal in the United Kingdom's order of precedence.
The Archbishop of Canterbury is the Primate of All England and the symbolic head of the worldwide Anglican Communion. Welby is the 105th in a line going back more than 1400 years to Augustine of Canterbury, who was sent to England from Rome in 597. In England, the Archbishop of Canterbury holds a central role in national ceremonies such as coronations and royal weddings.
As holder of one of the five great sees (Canterbury, York, London, Durham and Winchester), the Archbishop of Canterbury is one of the Lords Spiritual of the House of Lords. In addition to his regular duties as member of the House of Lords, Welby sits on the panel of the Parliamentary Commission on Banking Standards.
Due to his high public profile, the Archbishop of Canterbury is often asked by the news media to voice his opinion regarding various issues. As a spiritual leader of the Anglican Community, he is often asked to speak on behalf of Anglicans worldwide and Justin Welby has assumed an important role in Anglican ecumenical and interfaith work. Welby is also a highly visible supporter of Anglican consecration of women as bishops.
Archbishop of Canterbury
As the Archbishop of Canterbury, Justin Welby fills four main roles:
Role
Info
Diocesan bishop of the Diocese of Canterbury
The Diocese of Canterbury is the oldest see in the English church, and covers the eastern parts of the County of Kent.
Metropolitan archbishop of the Province of Canterbury.
The Province of Canterbury covers the southern two-thirds of England.
Senior primate and chief religious figure of the Church of England.
The British sovereign Queen Elizabeth is the supreme governor of the Church of England, while the Archbishop of Canterbury is the senior primate.

Along with the Archbishop of York, the Archbishop of Canterbury chairs the General Synod and sits or chairs many of the church high-ranking boards and committees.

Spiritual leader of the Anglican Community
The Archbishop of Canterbury is without legal authority outside England, but is recognized by the Anglican Communion as primus inter pares of all Anglican primates around the world.
Short facts
Personal details
Name
Justin Portal Welby
Born
6 January 1956
Alma mater
Trinity College, Cambridge
St John's College, Durham
Political party
N/A
Religious affiliation
Church of England
Spouse
Carolina Welby (née Eaton)
Current positions
Archbishop of Canterbury
Installed 21 March 2013
Preceded by
Rowan Williams
Ordinations
| | |
| --- | --- |
| Consecrated bishop | 2011 |
| Ordained priest | 1993 |
| Ordained deacon | 1992 |
Previous positions
| | |
| --- | --- |
| Bishop of Durham | 2011-2013 |
| Dean of Liverpool | 2007-2011 |
Early life
Justin Portal Welby was born in London, UK on 6 January 1956, to personal secretary Jane Gilliam Portal (b. 1929) and Gavin Bramhall James Welby (b. 1910).
In 2016, paternity testing revealed that Justin Welby's biological father was Sir Winston Churchill's private secretary Sir Anthony Montague Browne (b. 1923), with whom Jane Portal had a short relationship just prior to being married to Gavin Welby on 4 April 1955.
Justin Welby has described his early childhood as "messy". Both Jane and Gavin were alcoholics and the marriage only lasted until 1959. After the divorce, young Justin was placed in the custody of Gavin. When Justin Welby was 21 years old, Gavin Welby died of alcohol-related causes.
Welby's mother stopped drinking in 1968, and in 1975 she married first-class cricketer and business executive Charles Williams, who was made a life peer in 1985. Justin Welby describes his stepfather as being supportive of him.
Justin Welby was educated at St Peter's School, Seaford; Eton College; and Trinity College, Cambridge. At Cambridge, his great-uncle Lord Butler of Saffron Walden was the master.
Welby graduated with a Bachelor of Arts degree in history and law in 1978. As per tradition, he was later promoted to Master of Arts by seniority.
Career
Oil industry
Justin Welby worked for 11 years in the oil industry, including five years in France where he was employed by the French oil company Elf Aquitaine. In 1984, he became treasurer of Enterprise Oil PLC where he focused mainly on West African and North Sea projects. In 1989, he left the oil industry, citing a calling from God to be ordained. He was at this point a lay leader at the charismatic evangelical Anglican church of Holy Trinity in Bromptom, London.
Church of England
On his first attempt to be ordained, Justin Welby was rejected by John Hughes, the Bishop of Kensington, who told him: "There is no place for you in the Church of England." Welby was later accepted for ordination with the support of the Vicar of Holy Trinity Brompton, Sandy Millar.
Ordained Priest
Justin Welby studied theology at Cranmer Hall and St John's College, Durham in 1989 – 1992. He obtained a BA degree and a DipMin, and became an ordained Deacon in 1992. The following year, he was ordained Priest. In 1992 – 1995, Welby was a curate at Chilvers Coton and St Mary the Virgin, Astley (Nuneaton). He then worked as a rector of St James' Church, Southam, before becoming a vicar of St Michael and All Angels, Ufton, Diocese of Coventry.
In 2002, Welby was appointed a canon residentiary of Coventry Cathedral and the co-director for international ministry at the International Centre for Reconciliation. A few years later, he became the sub-dean and Canon for Reconciliation Ministry, before assuming the role of Dean of Liverpool in December 2007.
Consecrated Bishop
In the fall of 2011, Justin Welby was consecrated as a bishop at York Minster and enthroned as Bishop of Durham in Durham Cathedral. "I was astonished to be offered the role", he explained in an interview with the BBC in 2011. "It is a passionate desire to see a church that is vigorously full of spiritual life, serving Jesus Christ and serving those around it."
Justin Welby was introduced to the House of Lords on 12 January 2012 and soon joined the Parliamentary Commission on Banking Standards. In the House of Lords, he sits on the Lords Spiritual bench.
Archbishop of Canterbury
Despite being a bishop for such a short time, Justin Welby was appointed Archbishop of Canterbury in 2012. His confirmation of election ceremony to the See of Canterbury took place at St Paul's Cathedral on 4 February 2013.
As per tradition, the new archbishop was appointed to the Privy Council of the United Kingdom and Welby swore the oath on 13 March 2013. The following week, he was enthroned Archbishop of Canterbury at Canterbury Cathedral on 21 March 2013. As archbishop he signs himself as + Justin Cantuar.
Personal life
Marriage
Justin Welby is married to Caroline Welby (née Eaton).
Children
Justin Welby and his wife Caroline Welby has six children.
The couple has been praised for sending their children to local state schools instead of private schools.
In 1983, their seven-month-old daughter Johanna was killed in a car crash in France. As a result, Welby established an annual service at Coventry Cathedral commemorating the lives of children who have died.
Religion
Justin Welby is a member of the Church of England, which is the Anglican Christian state church of England.
Hobbies
Sailing
Justin Welby is a self-professed Francophile who lists "most things French" among his hobbies.
Other info
The Archbishop of Canterbury resides in The Old Palace in Canterbury, Kent, England.
Lambeth Palace on the bank of the River Thames, approximately 400 meters south-east of the Palace of Westminster, is the official London residence of the Archbishop of Canterbury.