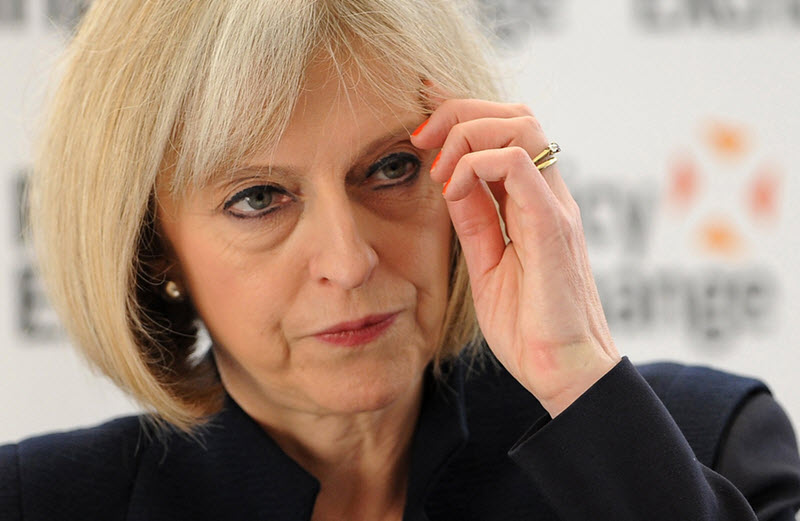 Theresa May became the Prime Minister of the United Kingdom on 13 July 2016. Two days earlier, she had become leader of the UK Conservative Party. Theresa May has been the Member of Parliament (MP) for the Maidenhead constituency since 1997.
After the United Kingdom European Union membership referendum on 23 June 2016, Prime Minister David Cameron – who had campaigned for the UK to stay in the EU – resigned as party leader and prime minister. Theresa May, who at the time held the position of Home Secretary of the United Kingdom, announced her candidacy for the leadership of the party and quickly received notable support. She won the first ballot of Conservative MPs on 5 July by a wide margin. Two days later, she won the votes of 199 MPs. On 11 July, her opponent Andrea Leadsom withdrew from the election, and Theresa May was appointed party leader that same day.
When Theresa May was appointed prime minister on 13 July 2016, she became the first woman ever to have held two of the Great Offices of State in the United Kingdom. The Great Offices of State in the United Kingdom are the four most senior and prestigious posts in the British government: Prime Minister, Chancellor of the Exchequer, Foreign Secretary and Home Secretary.
In her first speech as prime minister, Theresa May identified herself as a one-nation conservative and outlined her focus on social justice. Political analysts have also characterized her as a liberal conservative and Christian democrat.
Short facts
Personal details
| | |
| --- | --- |
| Name | Theresa Mary May (née Brasier) |
| Born | 1 October 1956 |
| Alma mater | St Hugh's College, University of Oxford |
| Political party | Conservative |
| Religious affiliation | Church of England |
| Spouse | Philip May (since 1980) |
Current positions
Prime Minister of the United Kingdom
Assumed office 13 July 2016
Preceded by
David Cameron
Leader of the Conservative Party (UK)
Assumed office 11 July 2016
Preceded by
David Cameron
Member of Parliament for Maidenhead (UK)
Assumed office 1 May 1997
Preceded by
Constituency created
Previous positions
Home Secretary (UK)
In office 12 May 2010 – 13 July 2016
Preceded by
Alan Johnson
Succeeded by
Amber Rudd
Minister for Women and Equalities
In office 12 May 2010 – 4 September 2012
Preceded by
Harriet Harman
Succeeded by
Maria Miller
Chairman of the Conservative Party
In office 23 July 2002 – 6 November 2003
Preceded by
David Davis
Succeeded by
Liam Fox
Maurice Saatchi
Early life
Theresa Mary Brasier was born in Eastbourne, Sussex on 1 October 1956. She is the only child of Zaidee Mary Brasier (née Barnes; 1928–1982) and Hubert Brasier (1917–1981). Hurbert Brasier was a clergyman in the Church of England. In Eastbourne, he worked as a hospital chaplain.
During Theresa's childhood, the family relocated to the county of Oxfordshire. Initially, her father worked as a vicar of Enstone with Heythrop, followed by a vicar position at St Mary the Virgin in Wheatley. Wheatley is a village located roughly 5 miles east of the city of Oxford.
Theresa Brasier attended Heythrop Primary School and St. Juliana's Convent School for Girls (in Begbroke), before winning a place at Holton Park Girl's Grammar School in Wheatley at the age of 13. The primary school and grammar school were state schools, while the convent school was an independent Roman Catholic school.
After graduating from the grammar school – which at that point had been turned into the Wheatly Park Comprehensive School – Theresa Brasier went to nearby University of Oxford where she read geography at St Hugh's College. In 1977, she graduated with a second class B A degree.
During Theresa Brasier's childhood and youth, her mother was a staunch supporter of the conservative party while her father avoided taking sides in politics as he wished to refrain from causing dissension in his congregations. In interviews, Theresa has mentioned that she wanted to become a Tory MP from about the age of 12. When she was 14 years old, she went on the campaign trail for the general election. In the following general election, the one in 1974, Theresa Brasier was an active campaigner for the Torys.
In 1980, Theresa Brasier married Philip May in her father's church St. Mary the Virgin in Wheatley. The couple had gotten to know each other at University of Oxford, after being introduced by Benazir Bhutto, future prime minister of Pakistan.
The year after the wedding, Reverend Hubert Brasier was killed in a car crash while driving to give an Evensong in the village of Forest Hill, just outside Oxford. A few months later, Theresa May lost her mother Zaidee Brasier to multiple sclerosis.
Career
After university, Theresa Brasier started work at the Bank of England in 1977. In 1985, she accepted a position at the Association for Payment Clearing Services, where she would remain until 1997 while also serving as a councilor for Durnsford in Merton, south London.
After two failed attempts to be elected to the House of Commons in 1992 and 1994, respectively, Theresa May became the MP for Maidenhead in the 1997 general election. In 2002 – 2003, she was Chairman of the Conservative Party.
Throughout the 2000s, Theresa May held a number of roles in the Shadow Cabinets. When a coalition government was formed after the 2010 general election, she was appointed Home Secretary and Miniter for Women and Equalities.
After the Conservative Party victory in the 2015 general election, Theresa May remained as Home Secretary, becoming the longest-serving Home Secretary since James Chuter Ede. (Ede served as Home Secretary under Prime Minister Clement Attlee from 1945 to 1951.)
During her time as Home Secretary, Theresa May pursued reform of the Police Federation and oversaw both the creation of the National Crime Agency and the introduction of elected Police and Crime Commissioners. She implemented more stringent restrictions on immigration and introduced a harder line on drugs, one that included the banning of khat.
Personal life
Marriage
Theresa May is married to Philip May, an investment banker currently working for Capital International. When Theresa May emerged as the only remaining candidate for the Conservative party leadership, his employer issued a statement saying that his current job does not make him responsible for investment decisions: " He is not involved with, and doesn't manage, money and is not a portfolio manager. His job is to ensure the clients are happy with the service and that we understand their goals."
Children
Theresa May has no children.
Religion
Theresa May is a member of the Church of England and regularly attends church on Sundays.
Hobbies
Theresa May is a passionate hiker. She has spent many holidays hiking in the Swiss Alps.
Theresa May likes to watch cricket. Geoffrey Boycott is one of her sporting heroes.
Other info
Theresa May was diagnosed with type-1 diabetes in 2012.