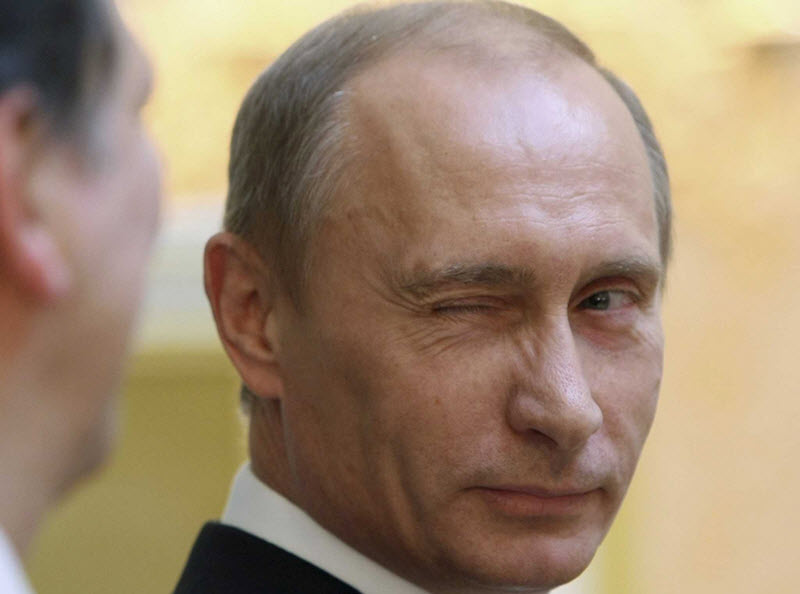 Vladimir Putin was the second President of Russia and is currently the fourth President of Russia. He was Prime Minister of Russia 1999 – 2000, President of Russia 2000 – 2008, Prime Minister 2008 – 2012, and then again President from 2012 and on-wards. During his second term as Prime Minister, he was also the Chairman of the ruling United Russia Party.
Vladimir Putin grew up in Leningrad and was a KGB foreign intelligence officer until he resign in 1991. As a KGB officer, he spent several years in Eastern Germany. In 1991, Putin became politically active in Leningrad and give years later he moved to Moscow to join President Boris Yeltsin's administration.
When Yeltsin resigned at the end of 1999, Putin became Acting President and he then won the subsequent 2000 presidential election. In 2004, he was re-elected for a second term with 72% of the vote.
Due to constitutionally mandated term limits, Putin was unable to run for a third consecutive presidential term. He instead put his support behind presidential candidate Dmitry Medvedev, who won the election and promptly made Putin Prime Minister of Russia. During Medvedev's time as president, the law was changed to extend presidential terms from four years to six years, starting with the president elected in the 2012 presidential election.
Putin won the 2012 presidential election with 64% of the vote.
Putin has enjoyed very high approval ratings in Russia throughout his career as prime minister and president, both during times of economic growth and during times of hardship. Internationally, he is frequently referred to as one of the most powerful persons – or the most powerful person – on the planet.
Putin was Time Person of the Year 2007. In 2013, 2014, 2015 and 2016 Putin topped Forbes list of The World's Most Powerful People. In 2015, Time put him in place #1 on their Most Influential People List.
Short facts
Personal details
Name
Vladimir Vladimirovich Putin
Born
7 October 1952
Alma mater
Leningrad State University (now Saint Petersburg State University)
Political party
Communist Party of the Soviet Union (1975–1991)
Our Home-Russia (1995–1999)
Unity (1999–2001)
Independent (1991–1995; 2001–2008)
United Russia (2008–present)
Religious affiliation
Russian Orthodox Church
Spouse
Lyudmila Aleksandrovna Putina, née Shkrebneva

(married 1983, divorced 2014)
Current positions
President of Russia
Assumed office 7 May 2012
Preceded by
Dmitry Medvedev
Previous positions
President of Russia
In office: 7 May 2000 – 7 May 2008
Acting: 31 December 1999 – 7 May 2000
Preceded by
Boris Yeltsin
Succeeded by
Dmitry Medvedev
Prime Minister of Russia
In office: 8 May 2008 – 7 May 2012
Preceded by
Viktor Zubkov
Succeeded by
Dmitry Medvedev
Prime Minister of Russia
In office: 16 August 1999 – 7 May 2000
Acting: 9 August 1999 – 16 August 1999
Preceded by
Sergei Stepashin
Succeeded by
Mikhail Kasyanov
Chairman of the Council of Ministers of the Union State
In office: 27 May 2008 – 18 July 2012
Preceded by
Viktor Zubkov
Succeeded by
Dmitry Medvedev
Leader of United Russia
In office: 7 May 2008 – 26 May 2012
Preceded by
Boris Gryzlov
Succeeded by
Dmitry Medvedev
Secretary of the Security Council
In office: 9 March 1999 – 9 August 1999
Preceded by
Nikolay Bordyuzha
Succeeded by
Sergei Ivanov
Director of the Federal Security Service
In office: 25 July 1998 – 29 March 1999
Preceded by
Nikolay Kovalyov
Succeeded by
Nikolai Patrushev
Early life
Vladimir Vladimirovich Putin ( Влади́мир Влади́мирович Пу́тин) was born on 7 October 1952 in Leningrad, Russia, Soviet Union. His parents were Vladimir Spiridonovich Putin (1911–1999) and Maria Ivanovna Putina (née Shelomova; 1911–1998). Two other sons, Albert and Viktor, had been born to the couple in the mid-1930s, but Albert died in infancy and Viktor died of diphtheria during the Siege of Leningrad.
Maria Invanovna Putina was a factory worker. Vladimir Spiridonovich Putin had been a part of the Soviet military (first Navy, then regular army) and severely wounded in 1942.
Vladimir Putin went to School No. 193 at Baskov Lane near his home in Leningrad.
At age 12, he started learning sambo and judo after being inspired by the spy heroes he'd seen in Soviet movies.
When it was time for high school, Putin attended High School 281in Leningrad where he became fluent in German. After high school, Putin studied law at Leningrad State University from 1970 to 1975. His graduation thesis was "The Most Favored Nation Trading Principle in International Law".
As a student at Leningrad State University, Putin was mandated to join the Communist Party, and he would remain a member until December 1991.
Career
KGB career
After completing his law degree, Vladimir Putin joined the KGB and trained at the 401st KGB school in Okhta, Leningrad. He worked in the counter-intelligence directorate before being transferred to the First Chief Directorate where he was tasked with the surveillance of foreigners and consular officials in Leningrad.
In 1985 – 1990, Putin lived in Dresden, East Germany. Ostensibly working as a translator, Putin was still a KBG official. During the fall of the Berlin Wall, he burned KGB files to prevent demonstrators from getting them.
After the fall of the Berlin Wall, Putin returned to Leningrad and worked with the International Affairs section of Leningrad State University. At the university, he kept an eye on the student body for the KGB and looked for suitable KGB recruits.
On the second day of the 1991 Soviet coup d'état attempt against Soviet President Mikhail Gorbachev, Lieutenant Colonel Vladimir Putin resigned.
Personal life
Marriage
Vladimir Putin and Lyudmila Aleksandrovna Shkrebneva married on 28 July 1983.
On 6 June 2013, the couple announced that they would get a divorce. This ended years of speculation regarding the status of their relationship. In April 2014, the Kremlin confirmed that the divorce had now been finalized.
In early 2016, it was reported that Lyudmila had married a man named Artur Ocheretny in 2015.
Children
Vladimir Putin has two daughters with Lyudmila Putina: Maria born in 1985 and Yekaterina (Katja) born in 1986. The daughters spent their early years in Dresden, East Germany. Back in Russia, they went to Deutsche Schule Moskau (The German School in Moscow) until their father was appointed Prime Minister in 1999.
Photographs of the daughters are not published by Russian media.
Religion
Russian Orthodox Church
Hobbies
Putin has been practicing judo and sambo since he was a child, and holds a black belt in karate.
He is interested in many outdoor pursuits, including winter sports such as mountain skiing and ice hockey. His carefully cultivated outdoorsy image frequently shows him taking part in everything from scientific environmental projects to camping, white water rafting, fishing and horse-back riding.
The animal species under his personal patronage are the Amur tiger, the polar bear, the snow leopard and the white whale.
Other info
The estate Novo-Ogaryovo is the suburban residence of President Vladimir Putin. In 2012, Putin announced that due to Moscow's extensive traffic congestion, he intended to work at Novo-Ogaryovo to avoid the commute into central Moscow.
Novo-Ogaryovo is located in the Odintsovo District of Moscow Oblast and was built in the 1950s. It has been used for various governmental purposes both during the Soviet era and afterwards. Putin ordered it to be renovated in 2000 and made it the official presidential suburban residence.