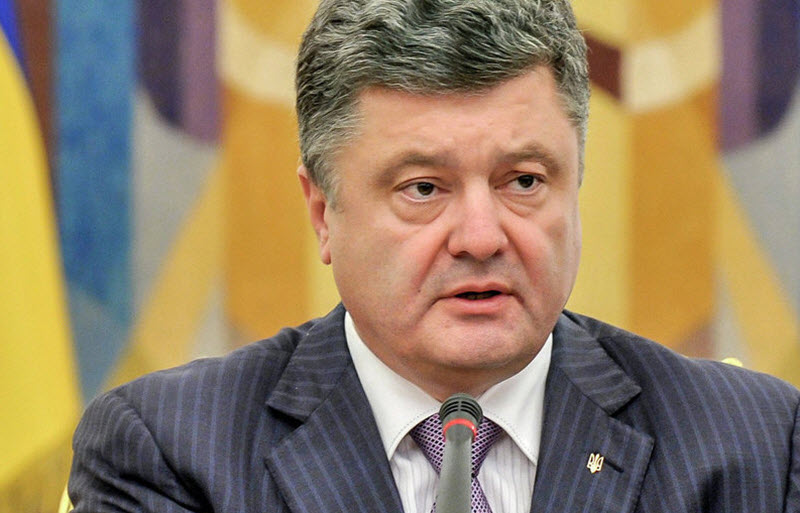 Petro Oleksiyovych Poroshenko ( Петро́ Олексі́йович Пороше́нко) has been the President of Ukraine since 7 June 2014, efter being elected on 25 May that year with more than 54% of the votes in the first round.
Previously, Poroshenko has served as Minister of Foreign Affairs from 2009 to 2010, and as Minister of Trade and Economic Development in 2012. From 2007 to 2012, he was also head of Ukraine's National Bank's council.
Poroshenko is nicknamed The Chocolate King, since he built a business empire in the 1990s after a fairly modest start selling cocoa beans. He has long been considered one of the most influential Ukrainan oligarchs. As of May 2015, Bloomberg News estimated his net worth to $720 millions.
In Ukraine, Poroshenko is widely described as a pragmatic politician who wish for Ukraine to become a part of the European Union while still somehow mending its relationship with Russia.
Poroshenko is fluent in Ukrainian, Russian, Romanian and English.
Short facts
Personal details
Name
Petro Oleksiyovych Poroshenko
Born
26 September 1965
Alma mater
Taras Shevchenko National University of Kyiv
Political party
Social Democratic (1990–2001)
Independent (2001–2002; 2012–2014)
Our Ukraine Bloc (2002–2012)
Petro Poroshenko Bloc (2014–present)
Religious affiliation
Ukrainian Orthodox Church of the Kyivan Patriarchate
Spouse
Maryna Anatolyivna Poroshenko (since 1984)
Current positions
President of Ukraine
Assumed office 7 June 2014
Preceded by
Oleksandr Turchynov
Previous positions
Minister of Trade and Economic Development
In office 23 March 2012 – 24 December 2012
Preceded by
Andriy Klyuyev
Succeeded by
Ihor Prasolov
Minister of Foreign Affairs
In office 9 October 2009 – 11 March 2010
Preceded by
Volodymyr Khandohiy
Succeeded by
Kostyantyn Gryshchenko
Secretary of the National Security and Defense Council
In office 8 February 2005 – 8 September 2005
Preceded by
Volodymyr Radchenko
Succeeded by
Anatoliy Kinakh
People's Deputy of Ukraine
3rd convocation
12 May 1998 – 14 May 2002

Elected as: Independent, Vinnytsia Oblast, District No.12
4th convocation
14 May 2002 – 8 September 2005

Elected as: Our Ukraine Bloc, Vinnytsia Oblast, District No.12
5th convocation
25 May 2006 – 15 June 2007

Elected as: Our Ukraine Bloc, No.3
7th convocation
12 December 2012 – 3 June 2014

Elected as: Independent, Vinnytsia Oblast, District No.1
Early life
Petro Poroshenko was born in Bolhrad in Odessa Oblast on 26 September 1965. He spent part of his childhood in Bendery in Moldavian SSR, where his father Oleksiy was head of a machine building plant.
The young Petro Poroshenko practiced judo and a Soviet martial art named Sambo, and he was Candidate for Master of Sport of the USSR. In school, he received good grades in the school subjects, but a low grade for behavior.
A fight with four Soviet Army cadets resulted in Petro Poroshenko being sent away to army service in the Kazakh SSR, far away from his family.
Petro Poroshenko started studying at Taras Shevchenko National University of Kyiv in 1982, but it would take until 1989 before he finally obtained his degree in economics from the international relations and law department (subsequently the Institute of International Relations). While still a student, Poroshenko created a legal advisory firm that specialized in helping clients with foreign trade contracts. This eventually led him into becoming a foreign trader himself, selling cocoa beans for chocolate production. During this time, he was the deputy director of the Republic Union of Small Businesses and Entrepreneurs, and the CEO of Exchange House Ukraine".
Early Career
In 1993, Petro Poroshenko co-founded the UkrPromInvest Ukrainian Industry and Investment Company. His experience with cocoa beans led him to specialize in confectionery and (eventually) other agricultural processing industries. UkrPromInvest was also active in the automotive sector, with several of the co-founders coming from the Road Traffic Institute in Kiev.
UkrPromInvest grew rapidly during the 1990s and formed the financial power-base for Petro Poroshenko's later endeavors. The activities branched out from confectionery and automotive to include shipyards, media companies, and more.
In 1998, Petro Poroshenko won a seat in the Ukrainian Parliament (Verkovna Rada) for the 12th single-mandate constituency and resigned from his position as director-general of UkrPromInvest.
Personal life
Marriage
Petro Poroshenko and Maryna Anatolyivna Perevedentseva (b. 1962) married in 1984.
Maryna is a cardiologist. She was a student at the Bogomolets National Medical University when she met Petro at a disco. She worked as a cardiologist at the Zhovtneva Hospital until the birth of their first son.
In Ukrainian, her name Maryna Anatolyivna Poroshenko is written Марина Анатоліївна Порошенко.
Children
Maryna and Petro Poroshenko has four children:
A son named Olexiy (b. 1985), who is a representative in the regional parliament of Vinnytsia Oblast. Through Olexiy, Maryna and Petro has a grandchild, born on the day of Petro Poroshenko's presidential inauguration of 7 June 2014.
Twin daughters named Yevheniya and Oleksandra (b. 2000)
A son named Mykhaylo (b. 2001)
Former Ukrainian president Viktor Yushchenko is the children's godfather.
Religion
Poroshenko is a member of the Ukrainian Orthodox Church. He often wears a visible crucifix during high-level meetings, and has financed the restoration of monasteries.
Other info
Petro Poroshenko and his family live in their private home in the historic neighborhood of Koncha-Zaspa in southern Kiev.
In 1997, Petro Poroshenko's older brother (by eight years) died in a car accident under suspicious circumstances.