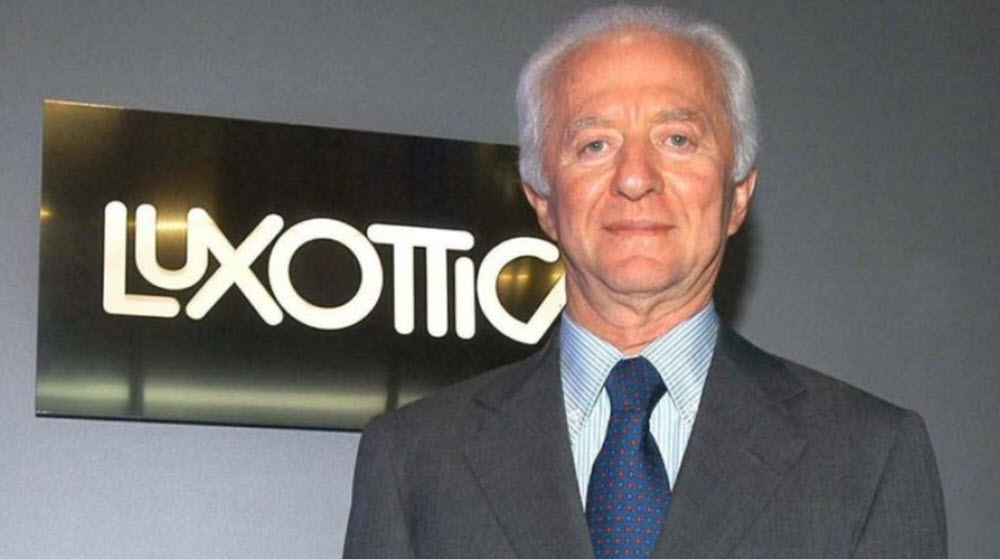 Born in Milan in 1935, Leonardo Del Vecchio might not be a household name. While most people would not have a clue who he is, everyone in the modern world uses the products created by the company he founded. This Italian businessman can be considered solely responsible for changing the way we see the world. Mr. Del Vecchio is the sole founder and current chairman of the Luxottica Group, which is, to this day the world's largest producer and seller for glasses and lenses.
Who is Leonardo Del Vecchio?
Born to an impoverished family in Milan, Italy, in 1935, Leonardo Del Vecchio whose father died before he was born, was forced to live in an orphanage at the age of 7 when his widowed mother was unable to take care of him. Making a decision not to be held back by his humble and unfortunate beginnings, he began apprenticing at a car and eyewear parts factory at the young age of 14. He used his earnings and knowledge gained to put himself through design school. Less than a decade later, he started his solo business career as a tool and die maker in Milan.
From Rags to Riches
After some self-discovery, he decided to turn his talents in metalworking to make parts for spectacles. This decision took him to Agordo, in the province of Belluno, the home of the Italian eyewear industry, in year 1961. Here he started his new company called Luxottica s.a.s. as of 1967, he upgraded his business from making just parts, to creating and selling complete eyeglass frames. It only took 4 years for the company to move into the contract manufacturing business.
After finding success through hard work and determination, he continued growing his business into the giant listed on the S&P/MIB index today. Starting with acquisition of Scarrano, a distribution company, in 1974, Luxottica brand continued growing by setting up their first international subsidiary, in Germany, in the year 1981. Keeping with the trend of moving forward, the company made its first licensing deal with Giorgio Armani in 1988.
In 1990, Luxottica was listed in New York, and Milan in December, 2000, and joined the MIB-300 (now S&P/MIB) index. This listing became a launching platform for the expanding company, as it enhanced their ability to acquire other businesses, such as, Vogue in 1990, Persol and US Shoe Corporation or LensCrafters in 1995, Ray-Ban in 1999 and Sunglass Hut Inc. in 2001, OPSM in 2003, Pearle Vision in 2004, Surfeyes in 2006, Cole National in 2004, and most recently Oakley, in 2007 with a $2.1 Billion deal. Not only owning almost the entire landscape in the glasses industry, Luxottica also makes glasses for other world-famous names like Bulgari, Chanel and Armani. The merger with lens maker Essilor in 2017 made Luxottica world's largest producer and retailer of sunglasses and prescription glasses.
Del Vecchio has been the Chairman of the Board at Luxottica group since 1961, but was only appointed as Executive Chairman in 2016, at the nimble age of 81. This visionary of the vision world, received the honor of Cavailere dell'ORdine al "Merito del Lavoro" (Knight of the Order for Labor Merit) from then President of the Republic of Italy, in 1986. Receiving countless honorary degrees through two decades, Leonardo Del Vecchio currently sits at #45 in the Forbes List of Billionaires and holds positions as Chairman of Delfin S.à.r.l, Aterno S.à.r.l., Leonardo Del Vecchio Foundation and as the Director of GiVi Holding S.p.A.